MAG-pie Alert!…#5 TOXICITY OF IRON
At the risk of beating a "dead" horse…
"The underlying pathogenic event in Oxidative Stress is cellular iron mismanagement."…
(Thompson, K.I. et al (2001) "Iron & Neurologic Disorders." Brain Research Bulletin, 55: 155-164)
For those seeking the granular TRUTH of how Iron is "MANAGED" inside our cells and inside our bodies:
o Role of Cp on Iron regulation:
http://www.ncbi.nlm.nih.gov/pmc/articles/PMC322742/pdf/jcinvest00228-0276.pdf
(PAY PARTICULAR ATTENTION TO Fig. 6.)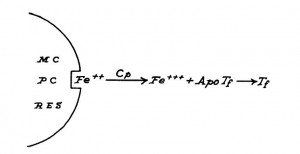 o Role of Cp on Iron regulation in Copper deficient rats:
http://jn.nutrition.org/content/103/2/196.full.pdf
o Role of Cp on regulation of the Iron Hormone, Hepcidin:
http://www.sciencedirect.com/science/article/pii/S0925443910001481
o Role of Fe- and Cu-Homeostatic Mechanisms in Neuro-disorders:
http://journal.frontiersin.org/article/10.3389/fphar.2012.00169/full
Please, step BACK from your misguided pursuits of Iron-loading to get your Iron storage proteins higher & higher, and reflect on what these contemporary studies are REALLY saying about the dangers of Iron and the MISMANAGEMENT of Iron…
ALL is NOT as you've been "prescribed…"; nor as you've been "trained" to believe…
A votre sante!
MORLEY M. ROBBINS
See more on Facebook at:
https://www.facebook.com/groups/MagnesiumAdvocacy/904957342905669/